How To Build A Twitter Following From Scratch
The Blueprint to Unlimited Content Creation
I ignored Twitter for years after my dismal failure in making it work for my business, until one day, I decided to give it another try,

Originally, I had bought into some software, well known at the time, that churned out platitudes on autopilot. That did a fat lot of good, so I gave up on growing a Twitter audience and moved on.

Now, some years later, I discovered that Twitter was going through some sort of a revival, at least as far as marketers were concerned, so I started again.

This time I made sure to find the best people to work with and learn from. One of those is Art of Purpose. He's the man behind Create 24/7, one of the best, if not the best Twitter growth training available.
How The Blueprint Was Born
Art of Purpose, @creation247 on Twitter, devised and wrote the Create 24/7 with the complete beginner in mind.

Starting with zero experience or followers, he soon realized he didn't know how Twitter worked. So he diligently researched and practiced until he knew more than enough to succeed and share.

From this humble beginning, Create 24/7 was born and the proof is in his account. At the time of writing Art of Purpose has 144.6K Followers and a thriving online business.

Create 24/7 is a complete training course that teaches you how to build a Twitter following from scratch.

You'll learn all you need to know, from how to craft your tweets for engagement, to growing your account to how to sell affiliate products to creating your own offers and providing a service.

The course is a living beast! AoP is constantly adding extra training from guests selected for their expertise in specific aspects of Twitter marketing.

In brief, Create 24/7 is a 75-page ebook and a lot of additional material that teaches ethical ways to grow and monetize your Twitter account.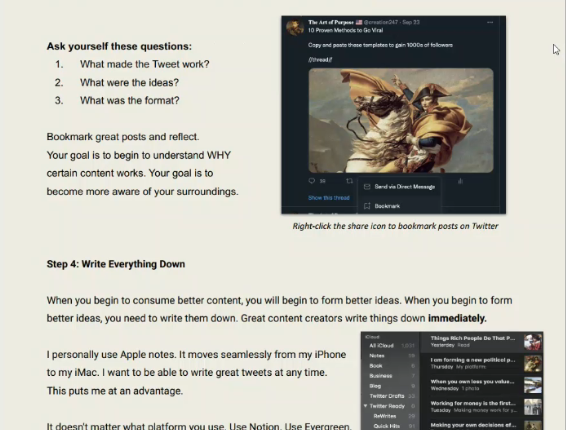 Let's Look Inside Create 24/7
Here's what you get inside this massive course. Don't be fooled into thinking this is just another ebook - it's not.

Along with the introductory video, there are two beautifully laid-out PDFs. - the actual "Blueprint to Build a 6-Figure Twitter Business" and "17 Secrets to Make Your Sentence Sing".

Create 24/7 is 75 pages of pure Twitter gold.

The Chapters:

• Prepare | Where the Journey Begins

• Design | Building a Winning Profile

• Create | Magnetic Content

• Define | The Art of Writing Threads

• Perform | Embrace the Process

• Synergize | An Infinite Wheel of Content

• Grow | Build an Audience

• Profit | Build a 6-Figure Twitter Empire


In addition to the written word, there are links to training videos for a deeper understanding. They are in the download section so you can refer to them at any time and at your own pace.

The whole course is beautifully laid out in step-by-step, easy-to-read lessons laden with Twitter goodness.

Another thing I like about what Art of Purpose has done is that he includes contributions from other great accounts and this makes Create 24/7 extra special.

When you invest in Create 24/7 you will no longer struggle to grow your account and making a good living working online.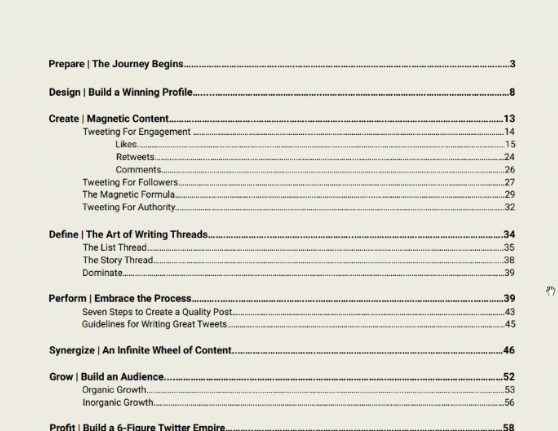 Singing Sentences


How good is your English? You may scratch your head like I did as I tried to recall some long-forgotten English lessons when you see this pdf.

"17 Secrets to Make Your Sentence Sing"

This contribution is from @GetPaidToWrite who goes over in great detail, the different types of language that you can use in your sentences.

These are the tricks great writers use to make their tweets memorable and relateable.

• Chiasmus
• Hyperbole
• Alliteration
• Personification
• Repetition: Diacope

• And 12 more brain teasers.


In addition to the two pdfs you've got several video lessons of about 20-30 minutes long covering Building Your Winning Profile, as you just saw in the pdf and video, Creating Your Magnetic Content, Networking, and lesson four is about getting Your First 10,000 followers.

You can see your progress as you work through the course, which is rather handy too.

If you missed those important English lessons, now's your chance to catch up!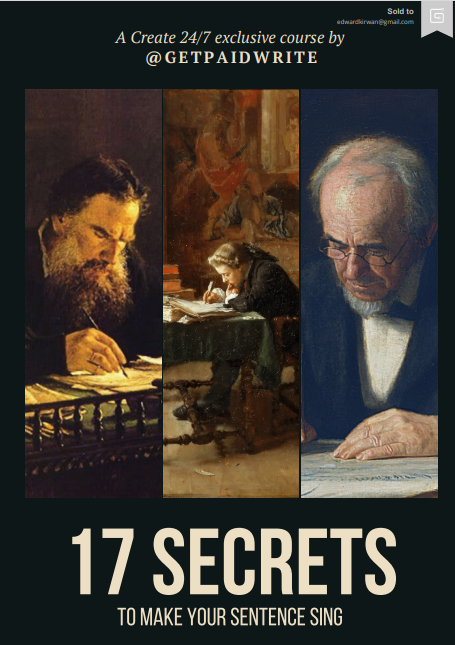 Create 24/7 Videos
Moving on, we've got video lessons 5, 6 and 7.

• Lesson 5: Affiliate Marketing (everything you need to know)

• Lesson 6: Building a 6-Figure Twitter.

• Lesson 7: How to Go Viral (without getting lucky)

• Plus many Bonus Videos.

You will learn how to create on Canva, and how to create a high ticket offer with Dan Koe. Aaron Will makes a great contribution tall about creating engagement - the list goes on and on.

The great thing about this course is it's a living course.

Steve Adcock is contributing by teaching how to start an email list, JK Molina of Tweet Hunter fame, explains why you should create a thought museum while Millennial Money Woman teaches all about creating threads.

Another top-class contributor to this course is Mark Thompson. He's a personal mentor of mine and he goes into detail about how you can 10X your sales with email marketing.

Niti Sarran shows how to create on Instagram to increase your social media reach without too much extra effort..

In addition to that, as if that wasn't enough, you get regular updates via email and/or posts. You can find them all inside Create 24/7.

It's a tremendous package so it's no wonder I give it a Five Star Rating.