The Amazon Selling Secrets Revealed
I never thought I would be writing about earning money online on Amazon. I tried selling products there as an affiliate without much success. That was a lot of hard work and a few websites ago. Sure the websites are there but they don't get much attention these days and therefore don't earn much money.
You will only get out what you put in, we all know that. For me, the effort of trying to sell products as an Amazon affiliate was not worth the commissions… so I moved on.
Then, last year, I re-visited Amazon with fresh eyes. I was not looking for high commission items to promote as some people advise, I was going for a real business. I wanted to be in charge of that business. I did not want anymore to be doing promotion after promotion for small money. NO!
I want to sell a range of my own products as a merchant.
And that idea, that dream has now become a reality. It was quite a challenge yet it is achievable. I found it strange that Amazon who want to do business and are so good in many ways,  make it so difficult to get started. Sure, they have written and video tutorials but you have to wade through acres of paper work to get the simple instructions. It would be good if they got that part of their act together!
While going through this long-winded process, it was back in March, I started getting emails about training for selling products on Amazon. You may have got them too. They were all about Matt Clark & Jason Katzenback;s "Amazing Selling Machine". Their product and training looked very good. However, I had already covered a lot of the ground they were teaching so I figured I could manage on my own. I did check out the price which was $1,200 (if memory serves me correctly 🙂  so I passed up that offer!
I struggled on with my Amazon inventory and FBA (Fulfillment by Amazon) buying bar codes and dealing with my manufacturer/suppliers, arranging shipping and so on. At one point I was finding it difficult and then up popped my friend Andre Chaperon. He is a great guy and an excellent marketer who you can learn a lot from by just being on his mailing list.
Anyway, he and his partner, Dave Tropeand,  re-released their Amazon sellers program for a short time over Easter. It is a quarter the price of the first one I mentioned, it's called "Amazon FBA Fast-Track & Beyond" and is an equally good product so I am led to believe.  However, it's closed now but you can get on their waiting list here.
If it had come along sooner I probably would have bought but again, I did not buy that training because I had done all my work. I now have my first products lined up awaiting shipment to Amazon in the UK and Germany.
Then today a good buddy of mine, Jimmy Mancini, Skyped me all excited about his new training, Amazon Selling Secrets. Guess what its about? Yep! Selling on Amazon. I told him, "Jimmy you are too late! I already know that stuff even though I learned it the hard way!" But we're friends and I know Jimmy puts out a lot of effort into his training products and software so I wanted to see what he had to offer. He sent me a copy and do you know what?… it has everything you need to know, everything those more expensive courses have, for a fraction of the price!
All the steps are laid out in an orderly fashion. You won't have to read reams of information you don't need (like I did) or watch poor video tutorials half of which do not work – are you listening Amazon? This is a 41 page training course, fully illustrated with step by step instructions. It has everything from how to find the right products to finding good suppliers who send the products  to the Amazon warehouses and the all important SEO factors for your pages. The last part is the most important and all the details are in the course.
If you want to make your life even easier, Jimmy has a super bit of software for a few dollars more. It is a secret weapon all on its own! Its like having  a spy network inside Amazon.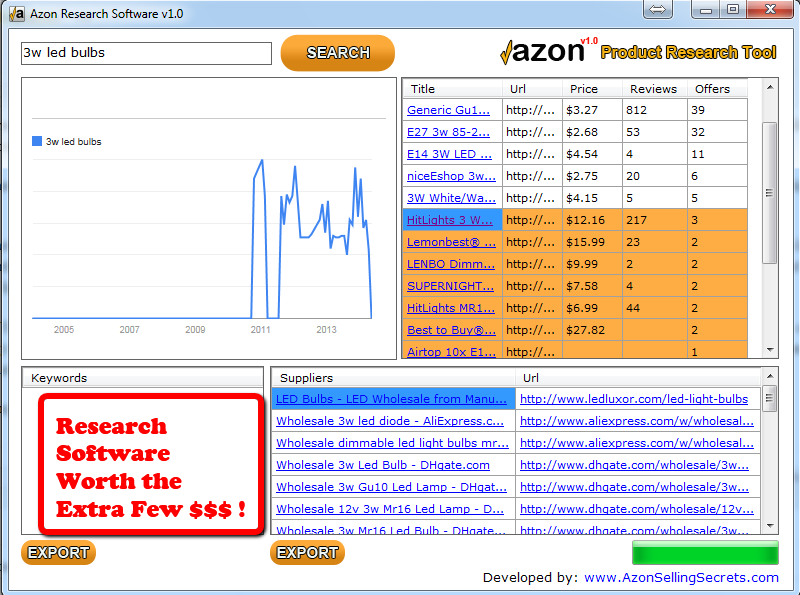 This software helps you by spying on the competition. You can see how many people are offering the same or similar type of products, the price and the popularity by trend. More than that , you get the keywords you need and even find suppliers along with their websites and contact details. Talk about a time saver!
Nice one Jimmy! If you are interested in taking control and developing a real onl;ine business, than give Amazon some thought. It is a great platform where you can build your brand even from a modest starting point. Want the Amazon Selling Secrets and software?